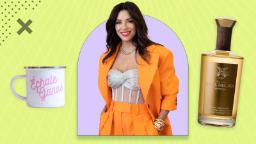 Away's collaborations grabbed headlines as soon as they launched – the brand has collaborated with some of the biggest names in the past, including Serena Williams – and the latest capsule collection features three global fashion designers. They've created a collection of Away's best-selling luggage, outfitted in their designs, and the results are available for purchase starting today.
The trio of designers, including Palomo Spain, Vaquera and Ashish, each took on the challenge to add their own signature to the brand's best-selling Bigger Carry-on and Sling Bag. Prices range from $155 to $295.
This design brings the idea of ​​a bouquet of roses to life in a suitcase.
Alejandro Palomo of Palomo Spain is inspired by embroidery and colors reminiscent of home.
Ashish's crayon-inspired Bigger Carry-on has sold out – but you can still buy The Sling Bag.
Alejandro Gómez Palomo of Palomo Spain used one of his collection's signature flowers on the suitcase to echo the brand's Iberian DNA, and Vaquera founder Patric DiCaprio also went with a gorgeous design featuring realistic roses printed on nylon superior. Ashish Gupta of Ashish's London-based studio said she used pastel-inspired graphics and florals to add a pop of colour to the usual parade of black suitcases you see at airports.
These pieces are limited editions and won't be around forever, so if you're eyeing one of these clever designs, it's a good idea to add it to your cart so you don't miss out. Buy them at Away or one of the brand's 13 brick-and-mortar stores.