Advocare's chief financial officer, Todd Mallon, said the organization's net collection rate was near perfect.
Improving net collection rates and the overall revenue cycle management process is a top priority for revenue cycle leaders, and adding new solutions and automation to simplify these operations is a must for many organizations.
Todd Mallon, Chief Financial Officer AdvocateOne of the largest independent physician-owned and physician-managed multispecialty healthcare organizations in Pennsylvania and New Jersey recently spoke with HealthLeaders about implementing new technology to streamline revenue cycle management operations for health systems.
With more than 650 providers and 3,000 employees in more than 150 independent care centers, Mallon facilitates approximately 2 million patient visits each year, and Mallon says streamlining its revenue cycle is critical.
Advocare now has a 99% net collection rate since implementing eClinicalWorks' new technology to help its revenue cycle management operations. With an industry standard ratio of 95% net collections, Advocare is now operating well above average and is experiencing the positive effects of this change across all of its care centers.
"I spend less time discussing process and rejections with our accounts receivable team. We now have the space and flexibility to focus on expanding our business and meeting the needs of more patients in our community," Mallon said.
HealthLeaders: What issues have you encountered in your revenue cycle that made you aware of the need to implement change? What is your main driving force?
Todd Malone: Our net collection ratio is the strongest indicator we need to change our revenue cycle management solution. The Net Collection Ratio measures how effectively our practice collects reimbursement for services from patients and payers. This metric has been the number one indicator of financial success for healthcare organizations.
However, with our previous practice management system, our net collection rate continued to decline. I feel like I spend most of every financial review meeting discussing receivables, rejections, and current processes to get to the heart of this issue. This means our team spends most of their time fixing day-to-day operations, which limits our ability to grow and provide high-quality care to more patients. Therefore, our primary driver for changing revenue cycle management is to provide our finance and accounts receivable teams with the support and resources they need to improve our net collection ratio.
HealthLeaders: What was the process for implementing the new technology? Who is involved in your organization's decision-making?
Malone: Everyone on our leadership team supports the decision-making process. Between our CEO (providing a medical perspective), the management team and myself (providing a financial and operational perspective), and our working group (led by multiple physicians across all our specialties), we would like all stakeholders to are involved in the decision-making process.
Before implementation, we held several meetings with our suppliers to define specific goals, metrics and deliverables to improve our net collection rate. Once we are aligned on the basic workflow and backend operations, the next step is training. The system is new to everyone – from our CEO to suppliers to managers – so we need a lot of support to train our staff. Without proper training, we are unlikely to see an increase in our net collection rate.
Before launch, a team of our staff traveled to Boston to give a comprehensive overview and training of the new system. Three months before the launch, our supplier team trained our suppliers so that they had confidence in the system. We also offer pre-launch training sessions for other employees. However, even after training, the team can answer questions or resolve potential issues with the system or workflow via a quick phone call or chat.
HealthLeaders: How long will it take for your organization to fully implement the technology? Since your practice spans so many clinics, how effective is the implementation?
Malone: Launching the system was challenging, and we couldn't have successfully implemented the technology without vendor support. We rolled out the new solution to all 150 medical centers in one day. We gave it our all from the start and we needed to start strong.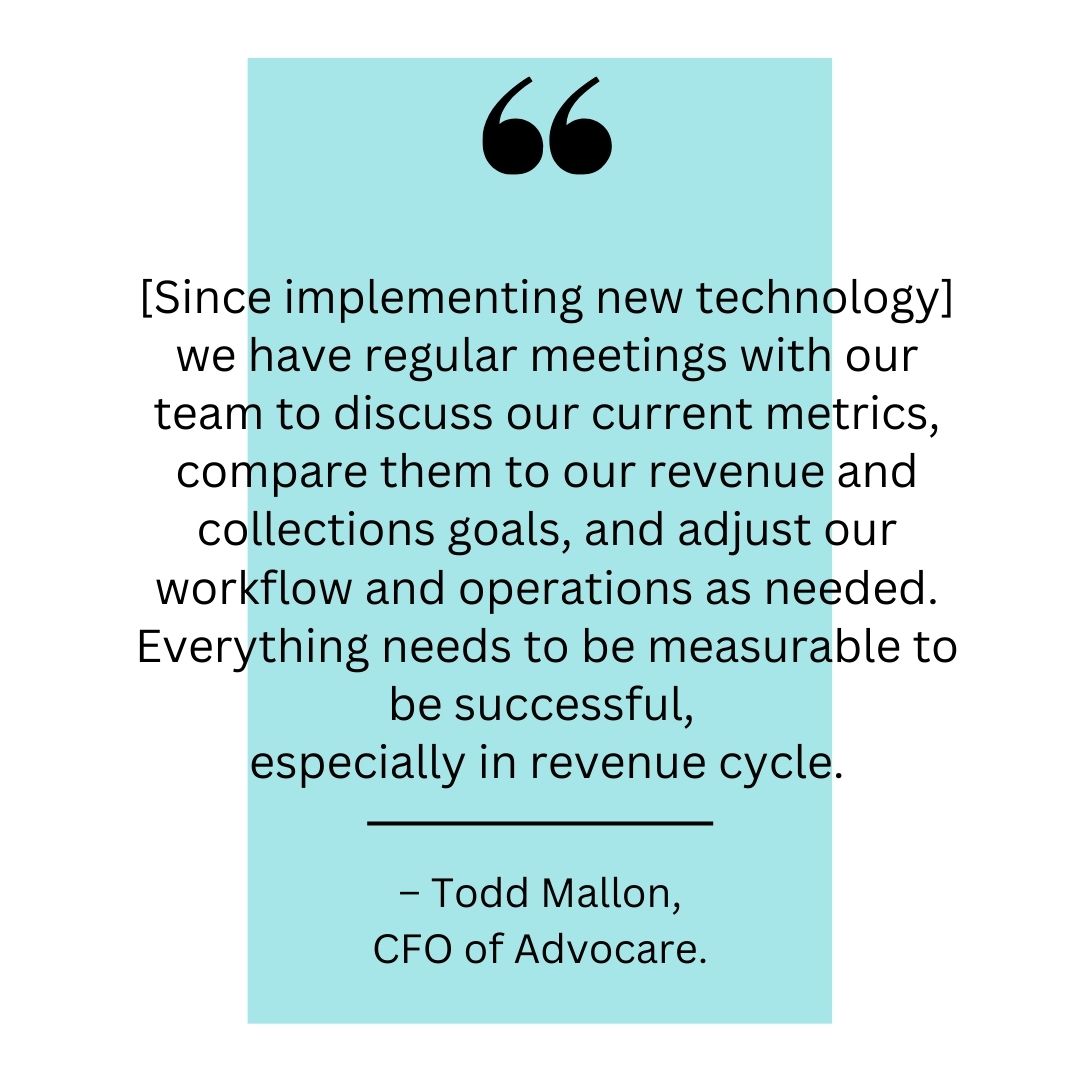 For about a week to two weeks after launch, we have eClinicalWorks trainers at each care center to help with the transition process and train more Advocare staff. During the implementation process, we train our internal staff as key players of the solution so that they can move on to further implementation and staff training.
HealthLeaders: What positive outcomes have you noticed since implementation?
Malone: The most notable positive outcome was our increase in net collections. Several things contributed to this growth.
First, we now have a dedicated eClinicalWorks team to handle our daily collection and follow-up to ensure we receive claims on time. To create an efficient workflow, the team helped us establish rules for preparing invoicing to ensure the care center completes the report accurately. We can create alerts for missing or incomplete claims. In addition to the rules in these workflows, the team notifies us of any issues, which gives us enough time to gather more information from the provider or communicate next steps with the payer.
Second, our provider team also handles denial appeals for our care centers. So if a particular center's claim that needs to be resolved or changed is denied, they will help that center file an appeal and track the progress of the claim within our system. Once we receive the payment, they process the cash collection and post it internally so we can track our earnings in real time.
HealthLeaders: What success tips can you share with other organizations looking to do the same for their facilities?
Malone: The first key to success I would share with other organizations looking to improve their revenue cycle is understanding where you stand right now. Find out about your net collection ratio and how many days your receivables are outstanding. Once you have a baseline, you can set goals and implement strategies to improve your workflow and grow your collection. Once you have these measurements, keep track of them and update them regularly. We hold regular meetings with our team to discuss our current metrics, compare them to our revenue and collection goals, and adjust our workflow and operations as needed. Everything needs to be measurable to be successful, especially in the revenue cycle.
Second, train your team on new technologies. Especially for multi-site healthcare operations, each care center must have personnel who can monitor the success of the solution and train new staff as needed. Every care center is now operating at its best. Opening new care centers is also easier because we have a unified system.
Finally, choose a health IT vendor that listens to your organization and learns from you. Open communication between health IT vendors and practice customers can benefit both parties. For example, based on our experience with technology and conversations between our staff and the eClinicalWorks team, they came up with a batch lock button that locks multiple charts at once to minimize clicks and increase billing efficiency. The most valuable part of our partnership is open communication. We are willing to learn from them, and they are willing to learn from us. Thanks to this open communication, our suppliers and employees take advantage of more efficient workflows and our net collections have increased. Through them, we are also exposed to new opportunities to improve health IT solutions.
In the end, patients get a better experience, and everyone wins.
Amanda Norris is the Revenue Cycle Editor for HealthLeaders.