If you're considering a career in insurance, or just wondering what an insurance underwriter does, you're in the right place. In this article, we explain the important contributions made by these professionals in IoT insurance planning. We also discuss what it takes to be an employee and how the job differs from other positions in the industry.
Insurance underwriters are industry professionals whose job it is to determine whether an insurance company can insure an individual, home, or business by evaluating the risks involved in applying for an insurance policy. Underwriters work closely with other insurance professionals, such as actuaries, brokers, and risk managers, on how insurers can balance offering competitive rates to attract and retain customers with maintaining profitability.
Insurance underwriters usually specialize in one type of insurance business. The most common of these are:
general insurance – Includes home, auto, pet and travel insurance

life insurance – Assessing premiums for death benefits; can include disability and critical illness coverage

Health insurance – Assess the cost of a range of health plans, including those not covered by the Affordable Care Act (ACA)

business insurance – Covers business-related policies

Reinsurance – Share part of the risk with another insurance company
While an insurance underwriter's primary role is to assess a client's risk exposure to determine whether they are acceptable for coverage, their role goes beyond that.
The Bureau of Labor Statistics (BLS) lists several duties and responsibilities that insurance underwriters must perform. These include:
Analyze information provided by each customer regarding their insurance application

Determine the risks involved in insuring customers or the likelihood that they will make a claim

Applicants are screened based on established criteria – which vary by coverage – including age, credit rating, driving history, gender and health

Use automated software to determine the risk of policy applicants and review recommendations from these platforms

Obtain additional information on clients by contacting field representatives, medical personnel and other relevant sources

Determine the appropriate premium amount and terms and conditions of insurance

Ensure premiums are competitive and accounts remain profitable

Maintain detailed and accurate records of policies underwritten and decisions made
Insurance companies often prefer candidates with a bachelor's degree to fill their insurance underwriter vacancies. However, most insurance companies will also consider those with extensive insurance-related work experience, even if they only have an associate degree or high school diploma. Insurance-related certifications can also help job seekers land a job.
The following are the standard qualifications that insurance companies look for when looking for potential insurance underwriters.
Insurance Underwriter Education
A bachelor's degree in actuarial science, business, economics, finance or mathematics provides a solid foundation for those looking to start a career as an insurance underwriter. They can also study insurance underwriting courses and other related courses at accredited universities. Some universities offer a master's degree in insurance risk management, which can provide opportunities for career advancement.
Insurance Underwriter Training
Entry-level underwriters typically work under the supervision of a senior insurance underwriter for a period of time (usually 12 months) until they can perform their duties with minimal supervision. Some insurers also offer training programs to help new hires excel on the job.
Insurance Underwriter Certification
Insurance underwriters can expect to become certified later in their careers, especially if they are targeting senior underwriter roles or underwriter management positions. Each line offers a variety of underwriting certifications, keeping insurance professionals up-to-date on new products, regulatory changes and the latest innovations.
Here are some examples of certifications that insurance underwriters can use to help advance their careers:
Chartered Property and Casualty Underwriter (CPCU) Certification
Designed for professionals with at least two years of insurance underwriting experience, it includes four core courses, three concentration courses, one elective course, and one ethics course. Underwriters must also pass an exam to qualify for certification.
Chartered Life Underwriter (CLU) Certification
Offered by the American Institute of Financial Systems, this 18-month program is designed for individuals with at least three years of experience in the insurance industry. The program consists of five core courses and three elective courses covering a range of topics for life insurance professionals, including:
Life Insurance Planning

life insurance law

estate planning

Planning for Business Owners and Professionals
Candidates must also pass the exam to receive the certificate.
Life Underwriters Training Council Member (LUTCF) Certification:
This three-course program covers the fundamentals of life insurance, risk management, investment products and practice management. It is provided by the National Association of Insurance and Financial Advisers (NAIFA). Candidates must pass the exam to become certified.
Underwriters who specialize in health insurance can complete the American Institute's Registered Health Underwriter (RHU) certification, while commercial insurance underwriters can earn the American Insurance Institute's Commercial Underwriting Associate (AU) certification.
The five most essential skills that an insurance underwriter should have in order to be competent in their role are:
Skills of analyze: The ability to evaluate large amounts of information and accurately balance risk and caution.

Decision-making skills: The ability to screen various factors to determine whether an applicant should be admitted for coverage, and if so, what the premium should be and what the terms and conditions of the coverage will be.

Attention to detail: The ability to maintain a high level of focus when reviewing insurance applications, as each item impacts an underwriting decision.

Interpersonal and Communication Skills: As the job requires dealing with clients and other industry professionals, you will be able to relate and communicate well with others.

Math skills: Advanced computing skills as a role also involve extensive calculations to determine premiums and probability of loss.
Most insurance underwriters work full-time in offices for the following businesses and organizations:
Major insurers with a wide range of insurance products

Smaller insurance companies that specialize in one type of insurance

life insurance company

reinsurance company

health insurance company

banks and other financial institutions

credit bureau
According to the most recent data from the BLS, the average annual income of US insurance underwriters is $76,390, with the bottom 10% earning less than $47,330 and the top 10% earning more than $126,380.
These are the top five industries with the highest median insurance underwriter salaries.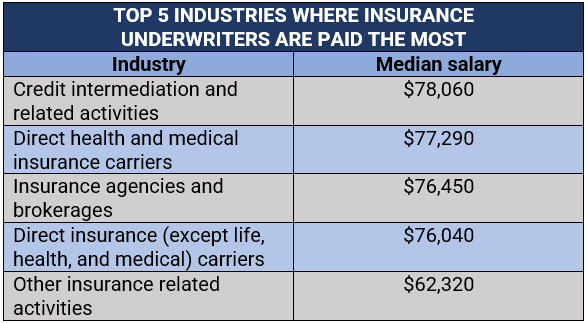 In the UK, the salary ranges for different classes of insurance underwriters are as follows: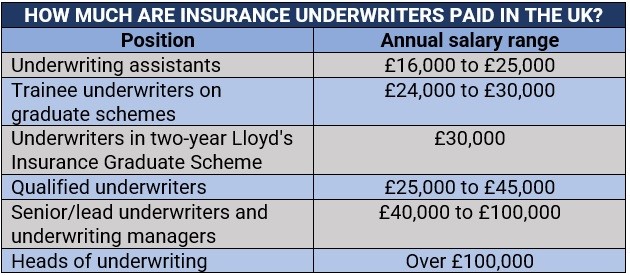 The average salary for an insurance underwriter in Canada is $62,500 per year or $32.05 per hour. Entry-level positions start at $48,750 per year, while the most experienced workers can earn as much as $96,412 per year.
Find out which insurance jobs pay the best in our latest rankings.
Insurance underwriters and insurance brokers both play important roles in the insurance industry, helping customers obtain various types of insurance. However, the duties performed by these professionals are quite different.
As mentioned above, insurance underwriters work for insurance companies, assessing the risks posed by potential customers and deciding whether they can be approved for coverage. Underwriters also use a range of metrics to determine the terms and conditions of premium pricing and coverage, taking into account a company's ability to maintain profits.
Meanwhile, the primary role of an insurance broker is that of a middleman. They act as intermediaries between buyers and insurance companies with the goal of helping individuals and businesses find policies that meet their unique needs. These industry professionals can work independently or as part of an insurance brokerage firm.
Thus, insurance underwriters put the interests of insurance companies first, while insurance brokers work with clients to help them find coverage that fits their needs and budget.
Does becoming an insurance broker sound like a better fit for you? You can learn more about what it takes to be a successful insurance broker by checking out this article.
Insurance underwriting can be a challenging job. Underwriters help insurers remain profitable while attracting and retaining customers—two goals that often conflict, especially in highly competitive markets. However, with the right combination of technical aptitude and soft skills, industry professionals can fill this role.
The table below lists the different attributes that an insurance underwriter should have to be successful in this field.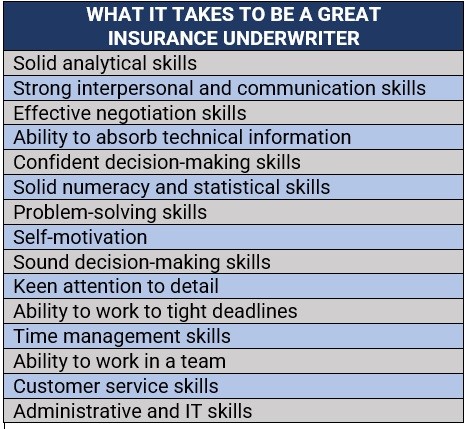 If working for an insurance company isn't for you and you'd rather start your own, this handy guide can give you a head start.
Do you think becoming an insurance underwriter is a good career choice? Tell us why or why not in the comments section below.