A teen was denied witnessing her father being executed by lethal injection in Missouri after a judge upheld a law stating she was too young.
Kevin Johnson, 37, faces the death penalty on Tuesday, Nov. 29, for shooting a police officer in 2005 when he was 19.
Johnson's daughter, Coriona "Khorry" Ramey, was two years old when Johnson was detained for the killing of William McEntee in Kirkwood, Missouri.
The American Civil Liberties Union (ACLU) filed an emergency lawsuit on behalf of Ms. Ramey, now 19 Asks federal court to allow her to watch her father's final moments.
Johnson put his daughter on the list of witnesses to witness the execution – and she also wanted to attend.
But Missouri law prohibits anyone under the age of 21 from witnessing the execution.
The ACLU argued the statute violated Ms Ramey's constitutional rights and was pointless, adding that the age threshold was "unreasonable".
However, U.S. District Judge Brian Wimes has now ruled against the teen, saying it is in the public interest "to allow states to enforce their laws and manage state prisons without court intervention."
In a written ruling, the judge said the lawsuit failed to prove "unconstitutional."
Ms Ramey said in a statement: "I am devastated that I was not able to be by my father's side during his final moments", adding that Johnson worked "very hard to rehabilitate himself in prison".
The teenager is now pinning her hopes on Missouri Republican Gov. Mike Parson to grant her father clemency.
The ACLU called on Missouri to "do the right thing" for Ms Ramy, tweeting: "A federal judge denied Ramy's request to witness the execution of her father, Kevin Johnson.
"There is no dignity in a state that kills its residents – and Missouri could still do the right thing for Khorry if the Governor had mercy on her father."
Johnson's lawyer, Sean Nolan, told reporters: "The irony is that Kevin was 19 when he committed the crime and they still want the execution to go ahead, but they won't allow his daughter, who is 19 at the time, to be involved because of her. too young."
Legal Bids to Stop Execution
Johnson's legal representatives also appealed to stop his execution.
They did not dispute his guilt – but claimed racism influenced the decision to seek the death penalty, and the jury's decision to sentence him, because Mr McEntee was killed because he was white.
The lawyer also said Johnson had a history of mental illness.
Mr. McEntee, a married father of three, was one of several officers dispatched to execute an arrest warrant at Johnson's home on July 5, 2005, on suspicion of violating his probation.
Johnson's 12-year-old brother, who has a congenital heart defect, collapsed and started having seizures.
He later died in hospital.
When Mr. McEntree returned to the area to investigate unrelated reports of fireworks, Johnson fired several shots at the officer.
According to the nonprofit Missouri Alternatives to the Death Penalty, Johnson's "abused childhood" and the sudden death of his brother led to his "regrettable behaviour."
The group tweeted: "Kevin Johnson was a loving father and grandfather who dedicated himself to being the best dad he could be, even in prison, and has always been positive and committed in his daughter's life exist."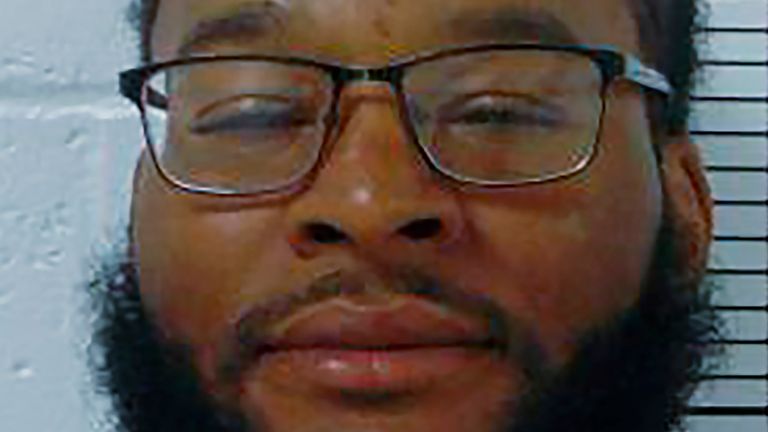 "I'll stand by him and hold his hand"
At an earlier news conference ahead of the judge's ruling, Ms Ramey said she wanted to attend the execution for "peace of mind" and as part of the grief process.
She maintains a close relationship with her father despite his imprisonment.
Ms Lamy said: "I am the closest living relative to my father, he is mine, except for my youngest son.
"If my dad was dying in the hospital, I would be by his side, holding his hand, and praying until he died."
The nurse aide traveled to Potosi Correctional Center, Missouri, to introduce her son, Kiaus, to his grandfather after giving birth in September.
"It was a beautiful but bittersweet moment for me because I realized that this might be the only time my dad would be able to hold (his) grandson," she said.
Ms. Ramey's attorney, Corene Kendrick, said the issue of a person's age restricting them from viewing executions rarely arises.
Nevada is the only state with an age limit of 21, while the federal government and other states have no age limit or require participants to be at least 18 years old.