Loads of great products coming out every week – as always we're here to keep you up to date with the best of the lot. Each week, we put together a short list of our favorite products from the past 7 days to shop for your morning coffee or your break from get off work (trust me, this is the only list you need to stay Newest).
This week launched Solo Stove's pizza oven accessory, Quip's new rechargeable brush, and two Pendleton collaborations: one with Cole Haan and the other with Brooklinen.
Shop our new favorites below, but be quick—they sell out quickly.
single furnace
The only thing better than being able to order pizza on demand anytime is being able to make it in your backyard and skip all those service and delivery fees. Enter Solo Stove's Pi Fire, which sits on top of your Solo Stove Smokeless Fire Pit to cook your pizza while you enjoy the warmth of your backyard fire pit. It takes some preheating to get the stones hot, but after that, you'll have fresh pizza within 5 to 10 minutes. It can also be nested inside the fire pit for storage.
Quip's best-selling toothbrush is now available as a rechargeable toothbrush, starting at $40 — and maintaining a brushing habit couldn't be easier. If you opt for the Smart Edition, you'll be able to check your brush's battery level, track your oral care habits, and even earn rewards for pairing the app with your brush. There's also a subscription plan that ensures new brush heads are shipped to you for $5 every three months, so you don't have to think too much about buying your pearly whites. It's also travel-ready for all your future winter adventures—the brush's five colorways help you and your SO or roommate distinguish your brushes.
Dutch oven and apron covered with vintage flowers

The Dutch oven is the one pot that will get you through most of the winter's baking, braising, braising, and roasting, and Great Jones just made it super fun with their Dutch oven by partnering with Lisa Says Gah: Great Jones Says Gah! The vintage-inspired, print-loving fashion darling puts Great Jones' contemporary spin on a classic Dutch oven and adds a little jazz with retro graphics (daisies around the gold handles and a small garden on the front). It is available as a 6.75 qt white oval Dutchess or a dark green 3.75 qt round Dutch Baby. And if you're a bit prone to spills in the kitchen, you can also pick up a matching apron that comes in two colors: broccoli and salt.
When you're heading straight from the office to your weekend getaway, Monos' new Metro looks great while stashing your belongings on your desk—and organizing your escape essentials. The Metro Weekender and Metro Toiletry Case feature Monos' signature design, crafted from vegan materials that look (and feel) luxurious. They're full of details that make it easy to organize things while you're on the go: think of the water-resistant bottom compartment for your weekend getaway shoe (which also has a laptop sleeve inside), and the generous pocket separation in a nylon or vegan leather makeup bag, say, Skincare and cosmetics, or showers and facials. Both are available in a ton of colors, so grab yours now before they start shipping in December.
Cole Haan and Pendleton just released a 7-piece collection that includes a Cole Haan loafer and travel bag in Pendleton tartan inspired by Acadia National Park – the perfect holiday gift for sophisticated park lovers . Expect penny loafers with peek-a-boo checks beneath woven uppers, weekender totes with Pendleton printed leather trim, and lace-up "longwing oxfords" with a hint of festive print.
Pick up your pots and pans individually

Lindsay Swiddick
Caraway's gorgeous black and white Icon collection features pots and pans in two classic colors with gleaming gold handles – perfect for stovetop, serving or showing off on open shelves. But now you don't have to buy them in bundles like you used to: you can buy a frying pan, wok, Dutch oven or pan as a lump sum to complete your cookware when needed.
Rocketbook's reusable smart notebooks are popular with those who like to digitize their notes, whether they're college students or journalers, and now there's a premium Rocketbook that's stylish enough for on-the-job settings. It comes with a vegan hardcover to keep you looking super professional in meetings and interviews, it has an embedded NFC chip for easy scanning when you upload meeting minutes and swappable page packs for an efficient note-taking experience Work best for you. rules page? grid? Blank? your call.
Brooklinen, maker of cozy bedding and other linens, is once again teaming up with Pendleton on a limited-edition graphic blanket to create a super cozy, heirloom-worthy holiday splurge for yourself or the lucky recipient. The pattern's red, blue, yellow, and brown geometric pattern combines Pendleton's timeless craftsmanship with Brooklinen's modern vibe—and while $389 isn't exactly cheap, at least the 64″ x 80″ size will give you something The value is greater than your average throw.
A Transatlantic Vacation Treat Made in Heaven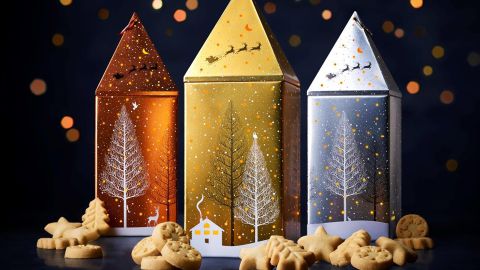 The annual shelf stocking of the Marks & Spencer holiday collection is a big deal in the UK for those who started the holidays with the first sight of Stilton – and now, dear US readers , everyone can enjoy the same gourmet delights: British grocers are taking America by storm with their seasonal delicacies.
M&S is stocking 15 food and beverage items at Target. There's the extremely necessary M&S All Butter Scottish Shortbread Assortment Tin, the contents of which pair well with tea or whiskey, depending on the mood, on chilly evenings. (If you really want to indulge in Anglophilia — which is what the collection is made for — there's also a double-decker shortbread bus for $14.99.) There's also the kid-friendly (or maybe not) Percy Pig Sweets and lots, and I mean lots, of chocolate, whether you opt for a classic after-dinner mint or a rich truffle. And, of course, tea—a tea light.
Experience the return of Y2K for your everyday life and holidays

The latest 2000s style collection coming soon? Stoney Clover Lane and Juicy Couture's new collaboration brings elements of Juicy Couture to Stoney Clover Lane's collection of 20 ultra-portable bags, totes, duffels, patches and more. The overall aesthetic is inspired by those coveted velvet tracksuits, and you can choose from shades of green, pink and brown to echo the colors of clothing we all know and love in the first place. Rhinestones? Yes. Massively embroidered JUICY logo? Yes! That J on the zipper? you bet. Shop the collection now at Stoney Clover Lane, starting at $20.