Business Week is an annual event for the University's School of Business, offering students an opportunity to connect with other business students and network with professionals from companies in Reno and beyond.
This year's Business Week features 'Beautiful Business' and includes networking events with Microsoft's Kickoff BBQ, ZLINE Kitchen and Bath, ITS Logistics, Elemental LED and Northwestern Mutual in Business Student Union and Career and corporate outreach centers, and virtual meetings with State Department recruiters for opportunities at foreign embassies.
Jim McClenahan, director of corporate relations at the Academy, helped coordinate networking opportunities during the business week. He encourages students to start building professional networks early in their college career.
"A person's network is the most valuable asset they have," McLenahan said. "Their first job was probably because they attended a social event."
This week also includes a pop-up from the recently revived Business Student Union initiative: The Professional Student Closet. Having business professional attire helps build the confidence needed to successfully connect with potential employers.
Serene Townsell, an Accounting and Human Development and Family Studies major in the Business Student Union, learned about the program's preexisting prior to the COVID-19 pandemic. She and Clayton Greb, another member of the Business Student Union, spoke with alumni who participated in the program and researched similar programs at other schools to see what needs to be done to get it back up and running. and run.
"Having been on campus for a few years, I saw the need for it," Townsell said. "It's not just for interviews, it's to help students wear clothes that make them feel like they belong where they work."
The closet operates entirely on donations collected while driving and a drop box in Room 409 of the Ansari Business Building. The first two drives took place in September. 22 and 23, the week before the pop-up. Eide Bailly LLP's office also houses a litter box and a donation rack.
A total of 177 items were donated for the first pop-up. Students visited the closet at a pop-up during Business Week, where they could take whatever clothes they wanted, completely free.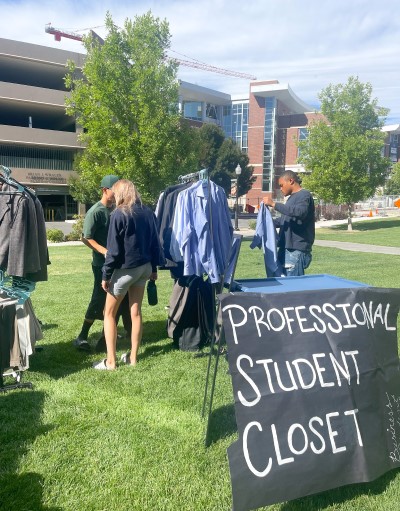 Information Systems major Ryan Jones visits the closet's first pop-up.
"The clothes I receive will greatly help me get a job in my field," Jones said. "They're crucial for interviews and job prospects, but it also makes you feel like you're not only dressed to succeed, but that you're ready to embark on a journey into the professional world."
Jones hopes to pursue a career in cybersecurity or cyber support after graduation at the end of the spring 2023 semester.
The next pop-up will be in October. 12 from 11am to 2pm at the Joe Crowley Student Union Ballroom. This will be part of the Prep Fair, where students will also receive free avatars, mock interview practice and resume reviews to prepare for the college's career fair.
"I would recommend this event to friends or anyone on campus because it's a great opportunity to save a lot of money," Jones said.
The Closet is supported by the University Nevada Career Studio and Business School Career and Corporate Outreach Center and Eide Bailly LLP. In the future, the Business Student Union hopes to expand the program with the support of more partners in the Reno/Sparks area.
"We thank Dean Mosier, Jim McClenahan, Jen Nelson, Aqueelah Thompson, Nicole Becker, Indigo Hinojos, Pack Provisions, Joe Crowley, the Multicultural Center, generous donors and other campus administrators for helping us in many ways," Townsell said. "We look forward to a partnership soon!"