It's officially gift-giving season, which means you're probably looking for gift ideas for everyone in your life. Whether it's for him, her, or the traveler in your life, or you need some cheap gifts, we've got tons of guides here at CNN Underscored.
If you know someone who is completely obsessed with nature, it's hard to find the perfect gift. That's why we've compiled our favorite products to make any hiker, camper, climber, kayaker or any other type of adventurer happy. If you need more ideas, check out our REI Gift Guide.
Yeti's new water bottle is sure to be a popular gift this holiday season. Instead of another bulky insulated metal bottle, the brand's latest version is a lightweight, BPA-free plastic water bottle that's still incredibly durable.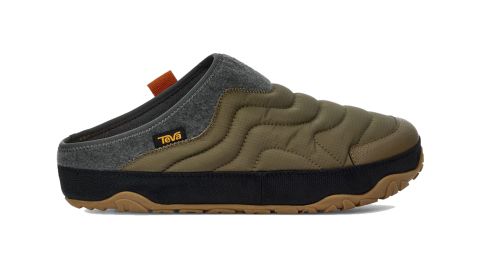 Teva ReEmber slippers have been one of our favorite gifts for years, but this holiday season Teva released a new version: the Teva ReEmber Terrain. This shoe has a thicker, more supportive sole and more traction on the bottom, so you'll feel more secure while walking around camp. We've been trying on a pair for ourselves and love the updated sole. However, these new slippers don't have a heel, so they slip off easily. We've also found that Terrain slippers come in a large size, so you may want to order one size down.
If you know someone who always forgets to drink, get them this Yeti Insulated Can. It uses the brand's dual-layer vacuum insulation technology to keep your drinks cool for hours.
It's no secret that whiskey glasses and pints of beer are outdated gifts, but we still think you should consider North Drinkware's glasses because they're so cool. The bottom of each glass has a 3D mold bottom of a real mountain.
When it's cold and you can't go camping, one of the things you probably miss the most is sitting around the fire making morels. While it's not quite as good as the real thing, this mini fireplace is a great way to bring a little outdoor flavor to the interior.
We really like the Solo Stove thanks to its sleek design and low pyrotechnics. It's a great big gift for those who can't make it all the way to the woods.
Apple moves into the outdoors with the new Apple Watch UItra. With longer battery life, improved GPS accuracy and enhanced compass capabilities, it could be the adventurer's new friend. We tried it, and while it was undoubtedly expensive, we thought it was worth it.
Mosquitoes aren't out yet, but you can bet they'll be back next summer to bite. Get ready for this rechargeable repellent, we tested it and liked it a lot.
We've been testing this hiking backpack from Gregory for the past month and absolutely love it. It has lots of tissue, chest and hip straps, and even a 3-liter water reservoir. If you're looking for a technical hiking bag to carry your gear for tough day hikes, this is the one for you.
Stay comfortable anywhere with the Honcho Cape from Therm-A-Rest. It has synthetic insulation to keep you warm and a huge front pocket that doubles as a stuff pocket for easy portability. We've been using it for a few weeks now and think it's a great way to keep it toasty at camp or at an outdoor venue like a tailgate or football game.
This versatile towel is perfect for travel, camping, the gym and basically any other outdoor activity. It is super packable, super absorbent, quick drying and soft. We've been testing it for about a month and love it. We've been looking for various uses for it and it definitely has a place on our camping bucket list.
Parks Project is one of our favorite outdoor brands, and this mushroom-themed Polaroid camera tops our holiday list for this year.
We really love Rumpl's blankets, and now the brand has teamed up with Carhartt to create a wearable Sherpa-lined blanket that looks like one of the most comfortable outfits we've ever seen.
If you follow national park trends, you'll want to grab this gorgeous 1,000-piece National Parks puzzle.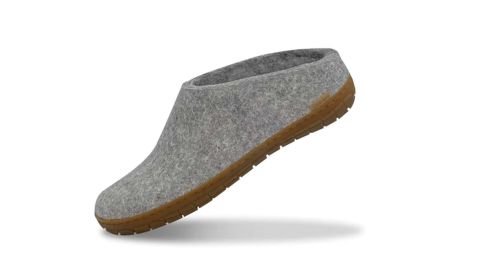 The perfect camping shoe, these comfortable slippers are made from 100% wool with a supportive rubber sole.
Sleeping comfortably at camp can be difficult, but not when you use this camping pillow from Nemo. We tried one ourselves and were impressed with how comfortable it was. It combines foam padding and an inflatable center to provide great support while still being able to pack.
This fire pit folds flat for easy portability and storage. Plus, it has an integrated ashtray, so it's easy to clean up and leaves no traces.
The huge tent was transformed into a self-contained shelter in just a few minutes. We tested one earlier this year and really liked its versatility.
If you enjoy cooking at camp, you need this lightweight, ultra-portable set. It comes with a 2.8-liter collapsible pot, a 1.3-liter collapsible kettle, and an 8-inch pan. We've been testing this unit for over a year and use it on every camping trip. The pot is just the right size for a big pot of soup for two, and everything can be shrunk down to the size of a Frisbee.
This weatherproof jacket from Flint and Tinder features a wax coating on both sides of the shell for extra warmth and insulation. Even when the weather is bad outside, the blanket lining feels extra comfortable.
This 36.5-liter tote can transport all kinds of gear, whether it's a large grocery haul or your ski essentials. Internal compression straps, handles and zipped pockets all make packing and carrying this tote a breeze.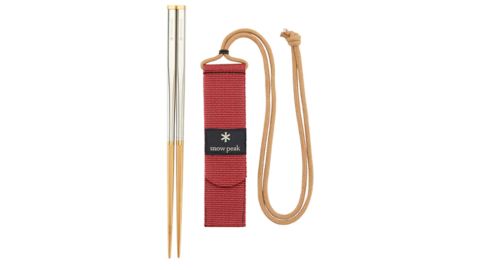 If you're looking for stylish stocking fillers, check out these chopsticks from outdoor brand Snow Peak, which are made from bamboo and stainless steel. Plus, they come with a carrying case so you can take them with you on your next adventure.
Once you're warm and comfortable in your sleeping bag, it's hard to motivate yourself to get out. With the Selk'Bag Wearable Sleeping Bag, you don't have to. Packed with synthetic insulation and equipped with plenty of pockets and vents to help you regulate the temperature, you can stay warm and comfortable all day long.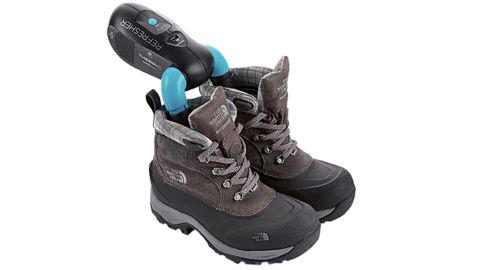 If you hate putting on a pair of cold boots in the morning, check out this boot warmer from Therm-ic. It uses a USB-powered heater that can heat two boots at once so your toes stay warm.
These little koozies from Puffin Drinkwear are the perfect stocking stuffer for the adventurer in your life. They can keep drinks cool with these stylish and fun can insulators.
You don't have to suffer from drinking instant coffee when you're out camping. There are plenty of portable options for brewing delicious mugs, including this lovely filter from Parks Project. It's made from 100% carbon steel and wrapped in enamel, which means it's strong enough for everyday use at home or in remote areas.
This enamel mug is cute, it won't shatter like a ceramic mug, and it's even safe to use in a campfire if you want to warm your drink over an open flame.
This portable fire pit from Snow Peak comes with a grill so you can make delicious meals wherever you are. Plus, it folds up so you can take it from your backyard to your campsite and anywhere in between.
Stanley's coveted glass is the perfect gift for anyone on your list. It's a great way to stay hydrated during your commute, at the office, or around the house with cold water.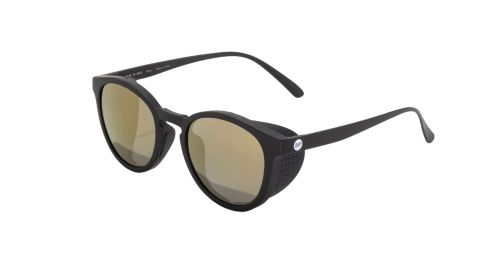 On the beach, slopes or mountaintops, these polarized sunglasses help protect your eyes from the sun. Plus, they have nifty side shields for extra anti-glare protection.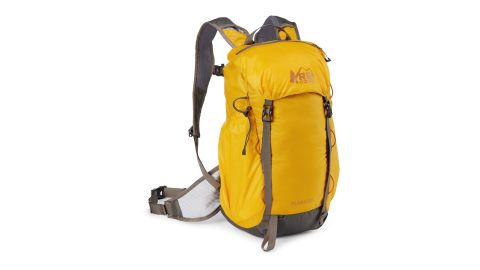 If you're looking to upgrade your hiking pack, look no further than this pack from REI Co-op. Simple, it has plenty of pockets and even a hydration cover so you can be ready for the next day's hike.
We love Patagonian sweaters and this fleece is no exception. With timeless styling and materials made from recycled polyester, the Better Sweater looks great on and off the road.
Explore further with this rooftop tent from Thule. This tent weighs 152 pounds, sleeps up to three people, and has an extended canopy so you can get from the car to the tent without being exposed to harsh conditions.
Ultralight tents are great for backpacking and car camping. It has enough interior space for two to sleep and two lofted foyer for extra gear storage.
Down jackets are a great gift because they are so versatile. Pair them with several layers and you can wear them from fall to spring. This one from Patagonia is especially good because it has 800-fill force goose down and its exterior is made from 30-denier recycled ripstop nylon for extra durability.
If you enjoy camping year-round, but don't want to buy multiple sleeping bags with different temperatures, this sleeping bag is for you. With two interchangeable layers, you can use them individually or together for three different sleep configurations.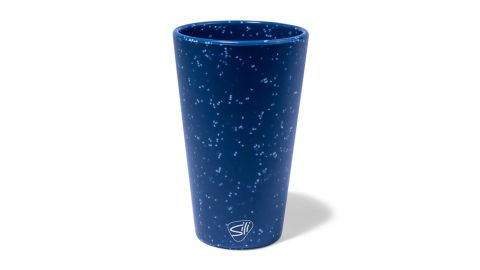 This pint is made of silicone, which means it can be used in the dishwasher, refrigerator, microwave, and oven. It's light, won't break, and is the perfect camping companion.