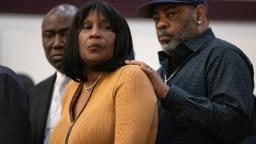 Memphis officials will release more than an hour of footage of Tire Nichols' fatal encounter with police, according to Shelby County District Attorney Steven Mulroy.
The material will include three body camera videos, Mulroy told CNN before the footage was made public Friday night. One will be footage of "nearly all" officers having their first encounter with Nichols.
It will show the moments shortly after Memphis officers pulled over Nichols' vehicle for alleged reckless driving, according to a statement from Memphis police. Mulroy said the original traffic stop was indeed included in the video.
Two other body camera videos, and one showing an overhead view, will show the officer's second encounter with Nichols.
According to Memphis police, "a confrontation occurred" between officers and the driver of the vehicle, later identified as Nichols, who fled on foot after the initial traffic stop. Officers arrested him and "another confrontation ensued," leading to Nichols' arrest, police said.
Mulroy said people could expect to see "enough" of the second encounter until Nichols was taken away by ambulance.
Five officers involved in the arrest have been charged with murder and kidnapping, Mulroy announced Thursday.
"But I suspect the general viewer after watching the video won't have much difficulty understanding why all five officers were responsible for Tire Nichols' death, and indeed, we're confident we have a strong case, ' he told CNN.