The teacher who was shot dead by her 6-year-old student texted her loved ones that the boy was armed and that school officials took no action until she was injured.
Abigail Zwirner She sent the text about an hour before she was shot in Virginia earlier this month, according to NBC News.
The 25-year-old teacher at Richneck Elementary School in Newport News said the student said he had a gun in his backpack.
A source told the outlet the text "shows her frustration", adding: "She's frustrated because she's trying to get help for this kid, for this kid, and then when she needs it, it's not there. People."
A spokesperson for Newport News Public Schools said: "Any concerns reported to our school leadership team about teachers and staff regarding Richneck are part of the investigation. It is being investigated thoroughly."
"How can a kid have a gun?"


Teachers will sue school districts
Ms. Zwerner's attorney announced she will sue the school district.
On the day of the shooting, concerned teachers and staff warned administrators that the boy had a gun and threatened other students three times, Diane Toscano said, "but the administration will not be disturbed." .
She said that at around 12:30 p.m., a teacher told administrators that she had Search Boys' School Bagsbut warned he had a gun in his pocket.
Ms. Toscano said that just after 1 p.m., another boy told his teacher that the student had shown him a gun and threatened to shoot him, and the teacher reported the incident to administrators.
Ms Toscano said another employee later asked permission to search the boy after hearing about the firearms, but was "told to wait until the situation was over as school time was coming to an end".
Ms Zwerner also told school administrators at about 11.15am that the boy had threatened to beat another child.
read more:
Parents of boy who shot teacher say gun was 'safe'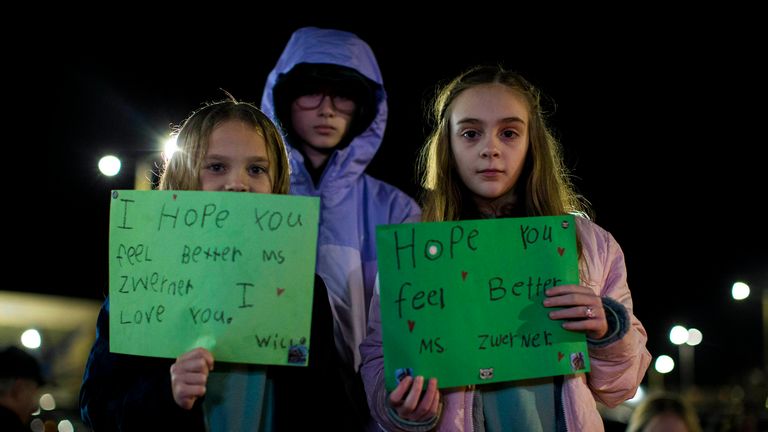 Police say shooting was 'intentional'
Police Chief Steve Drew has repeatedly characterized the shooting as "deliberate," saying the boy aimed at Ms. Zwirner and fired one shot, hitting her in the hands and chest.
Ms Zwerner was hospitalized for nearly two weeks but is now recovering at home, a hospital spokesman said.
Sheriff George Parker III said at least one executive officer was told the day of the shooting that the boy might be carrying a weapon, but no weapons were found when his backpack was searched.
Police said school officials had not informed them of the shooting, which occurred hours later.
Police said the boy's mother legally purchased the firearm used in the shooting.
A lawyer representing the boy's family said: "On behalf of the boy's family, we continue to pray for Ms Zwerner and wish her a full recovery.
"Our hearts go out to everyone involved."
boy's family last week Said the gun was "safe".
They also said the boy was "severely disabled" and was receiving a care plan that "included his mother or father accompanying him to school and accompanying him to class every day".
The family said his parents didn't attend classes with him the first week of the shooting.